About Training and Placement Officer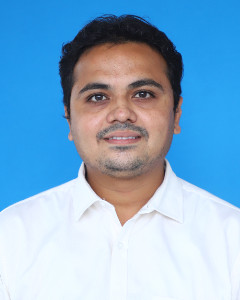 Name: Mr. Milkesh P. Jain
Designation: Training and Placement Officer
Qualification: MBA ( Marketing )
Area of Expertise: Corporate Relations and Placements
Experience: 12 Years
Email ID: tandp@rcpit.ac.in
Phone: 9403560548/9860107963
Summarized Record of Training & Placement
Highlights of Training & Placement
Highest placement in Khandesh – North Maharashtra region since last 4 Years
Since last 2 years more than 400 students got placed through college campus drives & off campus support
More than 40+ companies have conducted recruitment drives in RCPIT every year Campus recruitment drives of MNCs and core Industries like TCS, Cognizant, Capgemini, Persistent, Clover Infotech, Xoriant, Wipro, IBM, Tech Mahindra, Polyrub, Ognibene India, Avdhoot Heat, Bunts Tools, Konark Global, Zensoft serives, Hexaware, Prothious Engg, Bhavya Engg, and many more are arranged every year · More than 40 students are already placed from 2021 Batch during this covid-19 situation as well· Foreign Language training sessions (Japanese and German) are conducted for Second year to Last year students.
16 students got International Japanese certification (N5-N4) and 6 students got International German certification. (A1-A2).
Formation of Alumni Association to help students community in all aspect
Formation of Industry advisory board to help institute to improve employability skills in students.
More than 35 active tie-ups with industry for support in recruitment, Internship opportunities, Expert talks and industrial visits and Academic Initiatives.
Add-on Courses and employability enhancement activities for overall development and placement support.
Campus Recruitment Training Program (CRTP) is included in the curriculum from Second year to last year students to improve their soft skills and Aptitude.
89 students got selected in KPIT Technologies through KPIT Sparkle project competition till now.
15 Students got selected in Tata Consultancy Services through TCS Codevita coding competition till now.
2 Students got selected in Tata Consultancy Services through TCS Testimony competition.
90 students are shortlisted for Zensar ESD Program from Third year in the year 2020-2021.
6 students shortlisted via Infosys InfyTQ contest program for job opportunity.
CSR Activity from DELL, GTT-Barclays, ATOS-Syntel, Tata Strive, and IBM Skills Build are arranged for skill development of students.
Exposure to Internship opportunity from via T&P cell and students completed internships in TCS, Persistent and many more companies each year.
Support for Non Engineering and Diploma students in North Maharashtra region with Placement opportunity in Suzlon, Ognibene, Force Motors, Amphenol Socapex, GIC India, Wipro, Infosys, TCS etc.
Activity Report of T & P Department
Activity Report of T & P Department
Training & Placement Report 2021-22
DOWNLOAD
Training & Placement Report 2019-20
DOWNLOAD
Training & Placement Report 2018-19
DOWNLOAD
Training & Placement Report 2017-18
DOWNLOAD
RCPIT Alumni Association