About Training and Placement Officer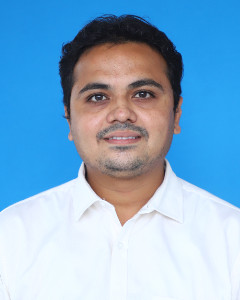 Name: Mr. Milkesh P. Jain
Designation: Training and Placement Officer
Qualification: MBA ( Marketing )
Area of Expertise: Corporate Relations and Placements
Experience: 12 Years
Email ID: tandp@rcpit.ac.in
Phone: 9403560548/9860107963
Summarized Record of Training & Placement
Highlights of Training & Placement
Highest package offered 19.14 LPA.
Avg. package offered up to 4 LPA.
60 % placement in IT/ITES companies, 20 % placement in service/Non Tech companies and 20 % in Core/Domain specific companies in last 3 Years Avg.
Avg. Placement % of last 3 years more than 75% (Willing students / Total students) of all dept.
More than 500+ companies visited in last 3 years for placement and internship opportunities
Highest stipend offered for internship 25K per month with Datametica Inc. Pune
Avg. stipend offered for internship up to 5K per month
More than 100+ students trained in Japanese and German language in last 3 years
More than 25+ certification of students Institute and Goethe/JLPT level from the trained list in last 3 years
Skills enhancement training program ESDP for campus placement partially funded by Institute which covers all soft skills, technical skills, mock test series, assessment, GD&PI, Resume building and mock interview preparation etc. More than 1000+ students got benefitted via this program in last 2 years.
Free CSR Training programs for all needy and eligible students from companies like Atos, Barclays, Wipro Talent Next, Tata Strive, IBM Skills Build, DELL, Zensar ESD, Honeywell, Mahindra Pride, Paramatrix Technology, Tata Technology Engineer Ready etc. to make you industry ready - 20+ such programs executed for more than 2000+ students in last 3 years.
CodeChef / Coding Ninja– MoU with Coding platform to bring the coding culture
Super Coder program by CodeQutioent – Available free of cost to top performing students to get Dream or High packages
In house Industry Trained faculty (Wipro, Zensar, TCS, Persistent) – Sessions for students to achieve the placement dream
Tie up with DJSCoE and NMIMS-Mukesh Patel Mumbai for High packages opportunities for Top performing students in last year
200+ Virtual and Offline talk and mentoring sessions by Alumni to guide and help you in last 3 years
More than 150+ talks by Industry personnel and HR Managers guidance session for students for creating awareness about career and latest trends
More than 30+ MoUs signed with different MNCS, industries/companies and training/skills enhancement partner for student's benefit and employability enhancement
Off Placement support –" College ke saath bhi , College ke baad bhi " – even after pass out – Free training courses and placement support catered to the students those who not placed
Alumni Adjunct – Faculty and training sessions – More than 120 + students benefitted free of cost
Industry Based contests/Hackthons/Hackquest – TCS Codevita, Infosys HackwithInfy(HWI), KPIT sparkle, Virtuasa, Capagemini Tech events and many more contest guidance and hiring opportunity - More than 50 Offered via contest based hiring in last 3 years.

Batch 24
Zensar ESD – 100 (Comp + DS + ETC) - Trained on JAVA, SQL, Aptitude Softskill – Total 200 hrs.
CodeChef – Free Programming and coding platform access – Foundation to Advance level.
ESDP Program by Campus Credentials – Python track - Foundation to Advance level, Softskill and Aptitude.
SuperCoder Program – 53 students (Comp-34, ETC- 12. DS- 5, Electrical-2) shortlisted for the program.
Wipro TalentNext Program – 275 students (Comp-155, DS – 55, ETC -45 Electrical- 20).
R3 program – Advance training on Java – 149
R3 program – Training on Mern Stack – 95
Japanese Training – 96 students
German Training – 49 students.
AUTOCAD Training for Civil Engineering -30 students.
Persistence Salesforce Training Program-60 students.
InfyTQ-Python Training Program-100 students.
Minor in Computer Engineering Program-50 students.
Activity Report of T & P Department
Activity Report of T & P Department
Training & Placement Report 2022-23
DOWNLOAD
Training & Placement Report 2021-22
DOWNLOAD
Training & Placement Report 2020-21
DOWNLOAD
Training & Placement Report 2019-20
DOWNLOAD
Training & Placement Report 2018-19
DOWNLOAD
RCPIT Alumni Association