Director's Message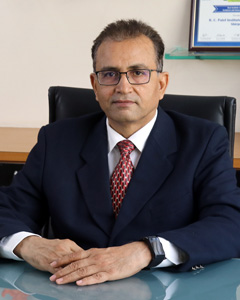 Dr. Jayantrao Bhaurao Patil
Director
Academic excellence has always been the hall mark of our institute and we are committed to provide a comprehensive education which seeks to develop the students into academically proficient, morally upright and socially well integrated individuals. Each individual of this institute is striving to turn dreams and aspirations into reality through perseverance and education. We aim at holistic as well as global education and prepare each one of our students to meet all the challenges head on in life.
Students of RCPIT are given creative liberties by organizing events and contests to enhance their analytical skills and lateral thinking abilities.
Exceptional achievements and performances are appreciated and rewarded to motivate others too. Whether in the campus or hostel, the students exhibit a spirit of camaraderie and co-existence and all this without compromising on social disciplines. The T & P Cell forms a vital link between the institute and the industry. As we always keep an environment that promotes excellence, much has been done in last some years but still more needs to be done in the years to come. I am proud to share that, we have placed 1000+ students through Campus Placements; more over 500+ alumni are shining abroad, 70% of them belongs to Khandesh Region. Without exaggeration I can firmly claim that RCPIT is a cradle of excellence and commitment, molding young minds and shaping our youth for a bright tomorrow.